Technology Euphoria 2016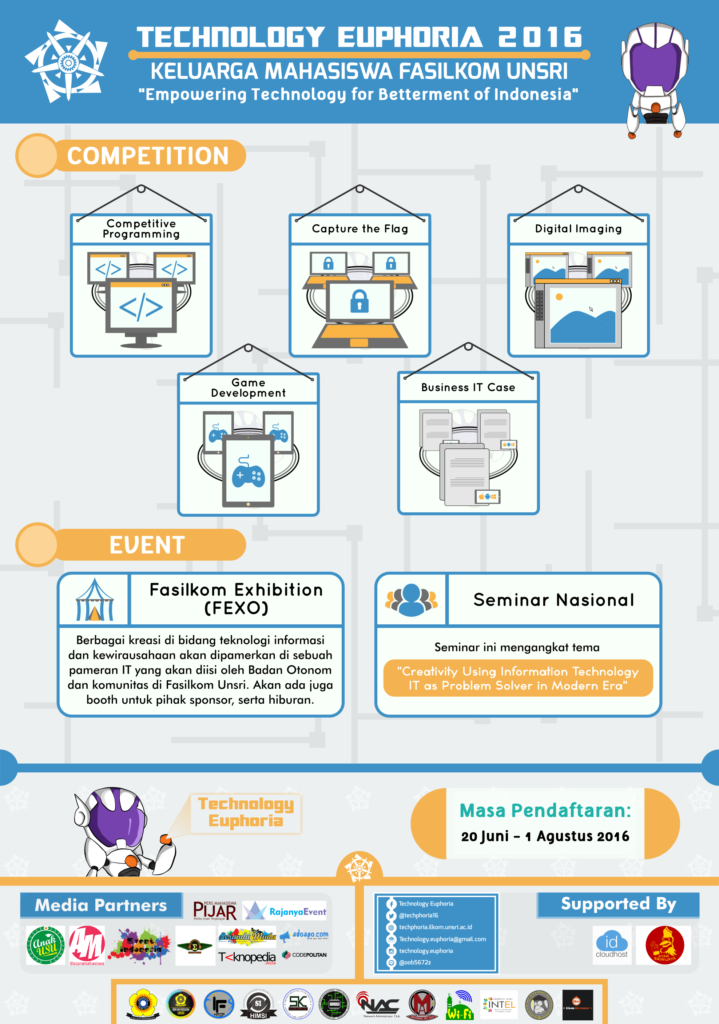 Hallo generasi muda, generasi tekno! Sejak 2014, maka tahun ini merupakan tahun ketiga Fakultas Ilmu Komputer Universitas Sriwijaya kembali menyelenggarakan event IT tingkat Nasional yaitu, Technology Euphoria 2016. Technology Euphoria merupakan serangkaian acara IT tahunan dengan kompetisi sebagai ajang edukatif bagi Universitas/Politeknik se­Indonesia untuk meningkatkan kesadaran tentang peranan IT serta meningkatkan nilai keilmuan dan komprehensif di bidang ilmu teknologi informasi komputer. Technology Euphoria 2016 ini membawa tema "Empowering Technology For Betterment of Indonesia".
Technology Euphoria 2016 terdapat lima kompetisi nasional yang terdiri dari Competitive Programing Competition, Game Development Competition, Business IT Case Competition, Capture The Flag dan Digital Imaging Competition. Selain kompetisi juga terdapat rangkaian acara lain seperti Seminar Nasional dengan tema "Creativity Using Information Technology as problem solver in modern Era", kemudian FEXO yang merupakan pameran hasil karya­karya kreasi bidang teknologi dan kewirausahaan, serta City Tour di Palembang untuk para peserta kompetisi.
Pendaftaran kelima kompetisi ini dibuka mulai tanggal 20 Juni 2016 hingga 1 Agustus 2016. Sedangkan puncak acara Technology Euphoria 2016 akan berlangsung pada tanggal 7­8 Oktober 2016.
Tunggu apalagi? Jadilah bagian dari penggerak perkembangan teknologi untuk Indonesia yang lebih baik. Daftar dan persiapkan diri kamu di Technology Euphoria 2016. Kunjungi situs http://techphoria.ilkom.unsri.ac.id untuk informasi lengkap mengenai kompetisi dan rangkaian acara Technology Euphoria.
Pastikan kamu terus update berita terbaru di media sosial Techphoria 2016, ya!
Twitter: @techporia16
Instagram: @technology.euphoria
Facebook Fanpage: Technology Euphoria
Youtube: Technology Euphoria
Email: technology.euphoria@gmail.com
ID Official Line: @oob5672z (use @)