[Short Talk] Rudiyanto & Julio Jamil
Rudiyanto Head of Operation and Business Development PT. Panin Asset Management dan Pengamat Pasar Modal. Pernah berpengalaman di posisi Senior Research and Investment Analyst PT Infovesta Utama, sebuah perusahaan riset reksa dana, saham, dan obligasi terkemuka di Indonesia.
Beliau hadir dalam kuliah umum di ruang seminar hall Kampus Inderalaya pada tanggal 17 Maret 2015 memberikan kuliah umum dengan tema "Head Of Operation and Business Development" pada.
Acara dibuka secara resmi oleh Pembantu Dekan III Mgs. Afriyan Firdaus, M.IT. Pemakalah memberikan motivasi bahwa perlunya pengelolaan uang dari sejak dini, Reksa Dana adalah Wadah untuk menghimpun dana dari masyarakat pemodal yang selanjutnya diinvestasikan kembali ke dalam portofolio efek oleh Manajer Investasi. Reksa Dana merupakan produk pasar modal dan bukan produk perbankan.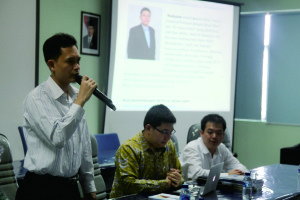 Ada tujuh keunggulan Reksa Dana: (1) Dikelola oleh profesional yang Legal, (2) Pilihan reksa dana beragam, (3) Minimum Investasi Murah dan Ada Autodebet, (4) LikuidMaks H+7, (5) Bukan Objek Pajak, (6) Fasilitas Online dan (7) Harga yang transparan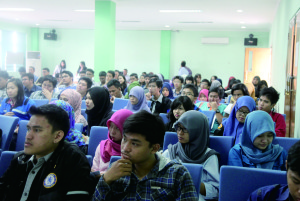 Dalam kuliah umum ini dihadiri lebih kurang 100 orang peserta mulai dari pejabat struktural di lingkungan Fakultas Ilmu Komputer, dosen, serta mahasiswa Fasilkom Unsri. Pada acara tersebut bisa disaksikan secara live dengan mengakses laman di http://streaming.ilkom.unsri.ac.id/ .