Workshop Hour Of Code And Build Web Apps With Azure 2017
Workshop Hour Of Code And Build Web Apps With Azure 2017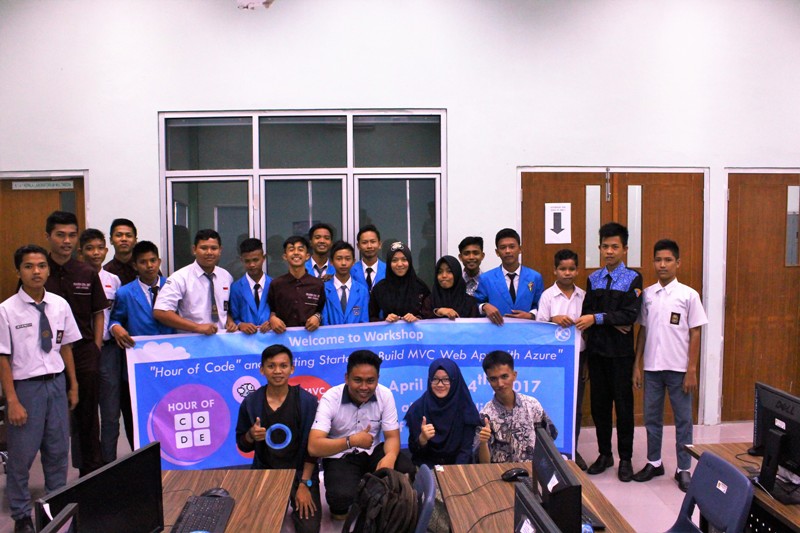 Fakultas Ilmu Komputer Universitas Sriwijaya bekerjasama dengan Microsoft Student Partner Indonesia Menyelenggarakan Workshop Hour Of Code And Build Web Apps With Azure yang telah dilaksanakan selama 2 hari pada tanggal 3 & 4 April 2017 di Laboraturium Komputer Multimedia Kampus Inderalaya. Pelatihan ini dilaksanakan untuk menarik minat dan cara berpikir yang baik, terstruktur, sistematis dan efisien dalam hal pembuatan  aplikasi komputer. Pemahaman ini sangat berguna sekali dan membantu para pemula untuk berkarya dalam hal pembuatan aplikasi atau web yang mudah dan menarik walaupun peserta belum memiliki kemampuan pemrograman yang cukup.
Pelatihan ini diikuti oleh 18 siswa peserta yang berasal perwakilan 4 Sekolah Menengah Kejuruan (SMK) dari 3 Kabupaten yang ada di Propinsi Sumatera Selatan dan dibuka secara resmi oleh KaSubag. Akademik dan Kemahasiswaan Ibu Riza, S.Si. Dalam sambutannya mewakili Dekan Fasilkom, Ibu Riza berharap peserta dapat mengikuti pelatihan dengan baik sehingga dapat menjadi bekal awal keilmuan dibidang pemograman. Sedangkan materi pada hari pertama adalah pengenalan Hour of Code. Pada kesempatan ini siswa di ajarkan dasar-dasar pemrograman sehingga dapat membantu menumbuhkan kemampuan pemecahan masalah, logika dan kreativitas membuat perangkat lunak.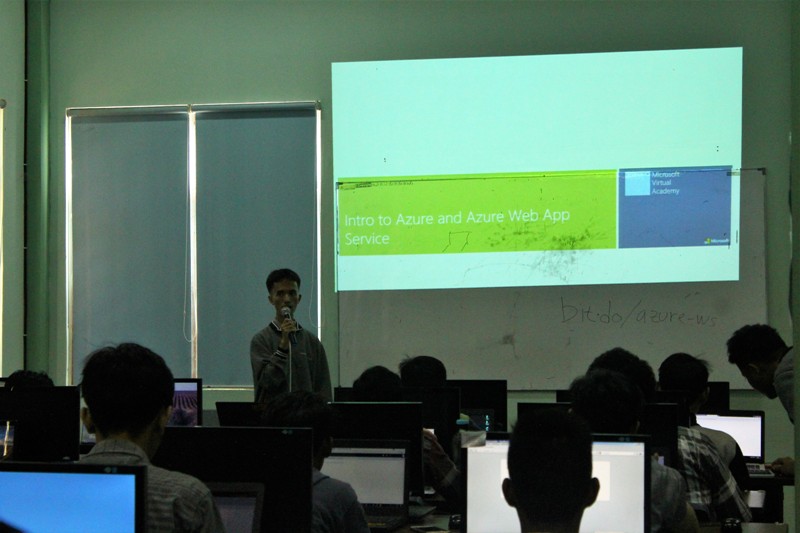 Hari kedua Pelatihan mempelajari lika liku pembuatan aplikasi web secara mudah dengan menggunakan Azure yang telah disediakan oleh Microsoft. Pelatihan ini berlangsung dengan baik yang dilihat dari antusias peserta terhadap materi yang diajarkan. Hasil dari pelatihan ini adalah setiap peserta dapat dan telah memiliki website sendiri dan dapat dikelola oleh peserta dengan baik. Keberhasilan pelatihan ini tidak terlepas dari faktor teknik pembelajaran yang di ajarkan secara menarik dan lugas oleh para pemateri yang berasal dari Microsoft Student Partner yang merupakan mahasiswa aktif di Fakultas Ilmu Komputer Unsri.
Pelatihan pengenalan pemrograman dan pembuatan aplikasi web ini ditutup oleh Kabag. Tata Usaha Fasilkom Bapak Drs. Halim Sobri, M.Si yang berharap workshop yang telah diselenggarakan ini  dapat melatih peserta untuk memahami logika pemrograman dan dasar-dasar  pemrograman dengan menggunakan Inovasi dan Kreatifitas yang dimiliki sehingga para peserta dapat memiliki kemampuan pemrograman untuk dapat memahami perkembangan teknologi yang selalu berkembang.