ICON-CSE 2014
Pada tanggal 1 Oktober 2014, Fakultas ILmu Komputer Universitas Sriwijaya, berkolaborasi dengan IAES-Indonesia Section (Institute of Advanced Engineering and Science) dan Kirklareli University (TURKI) mengadakan Konferensi Internasional bidang komputer Science dan Engineering dengan tema "Converging Technologies for Smart Environments". Rangkaian acara yang disusun oleh pihak panitian dimulai dengan kata sambutan dari General Chair ICONCSE 2014 yaitu Prof. Dr. Ir. Siti Nurmaini.
Selanjutnya di ikuti oleh perwakilan komite dari ICONCSE 2014, yaitu Assoc. Prof, Dr. Moch. Facta (President of IAES Indonesia Section), serta perwakilan dari IEEE-Indonesia Section yang diwakili oleh Assoc.Prof. Augie Widyotriatmo, Ph.D. Rangkaian seremonial ini selanjut ditutup dengan acara pembukaan secara resmi oleh REKTOR Univeritas Sriwijaya yang diwakili oleh Pembantu Rektor IV Dr. Ir. A. Muslim, M.Agr.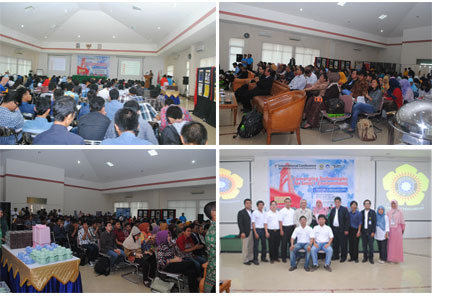 Selain dari rangkaian seremonial tersebut, terdapat juga acara ilmiah berupa Short Talk, yang diwakili oleh salah satu stakeholder Fakultas Ilmu Komputer yaitu PT TELKOM Indonesia yang diwakili oleh Ir. Henriyanto Toha ( GM WITEL SUMSEL). Setelah itu acara puncak internsional koferensi ini diisi oleh 2 pakar dibidang komputer Science yang didaulat untuk memberikan pemaparan ilmiah sebagai Keynote speech yaitu Assoc.Prof.Dr.Jafrin Din ( UTM Johor Bahru, Malaysia) dan Assoc.Prof. Augie Widyotriatmo, Ph.D (ITB, Bandung, Indonesia). Konfrensi ini di ikuti oleh 5 negara seperti Indonesia, Malaysia, Korea Selatan, Jepang, dan Saudi Arabia. Sedangkan jumlah total paper yang masuk berjumlah 60 paper, yang selanjutnya melalui penilaian (review) diterima 28 paper untuk di publikasi dalam konferensi.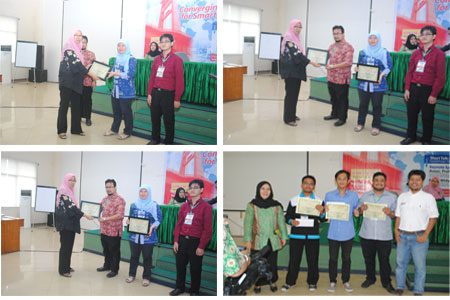 Pada Konferensi Internasional ini terdapat 3 pemakalah yang mendapatkan penghargaan sebagai best presenter yaitu :
Andi Ardiansyah (Universitas Mercu Buana)
Fithri Selva Jumeilah (STMIK GI MDP Palembang)
Frendredi Muliawan ( FASILKOM UNSRI)
Selain acara pemaparan karya ilmiah terdapat acara untuk meningkatkan suasana ilmiah dalam lingkungan Fakultas Ilmu Komputer, berupa lomba poster yang diikuti oleh 70 poster yang berisi tentang riset-riset yang telah dan sedang dilakukan oleh mahasiswa serta dosen Jurusan SIstem Komputer. Acara ICONCSE 2014 ini pada akhirnya ditutup secara resmi oleh Dekan Fakultas ilmu komputer yang diwakili oleh Ketua Jurusan Sistem Komputer, Bapak Firdaus, ST, M.Kom.
(RP)