Pendaftaran Digital Talent Scholarship 2019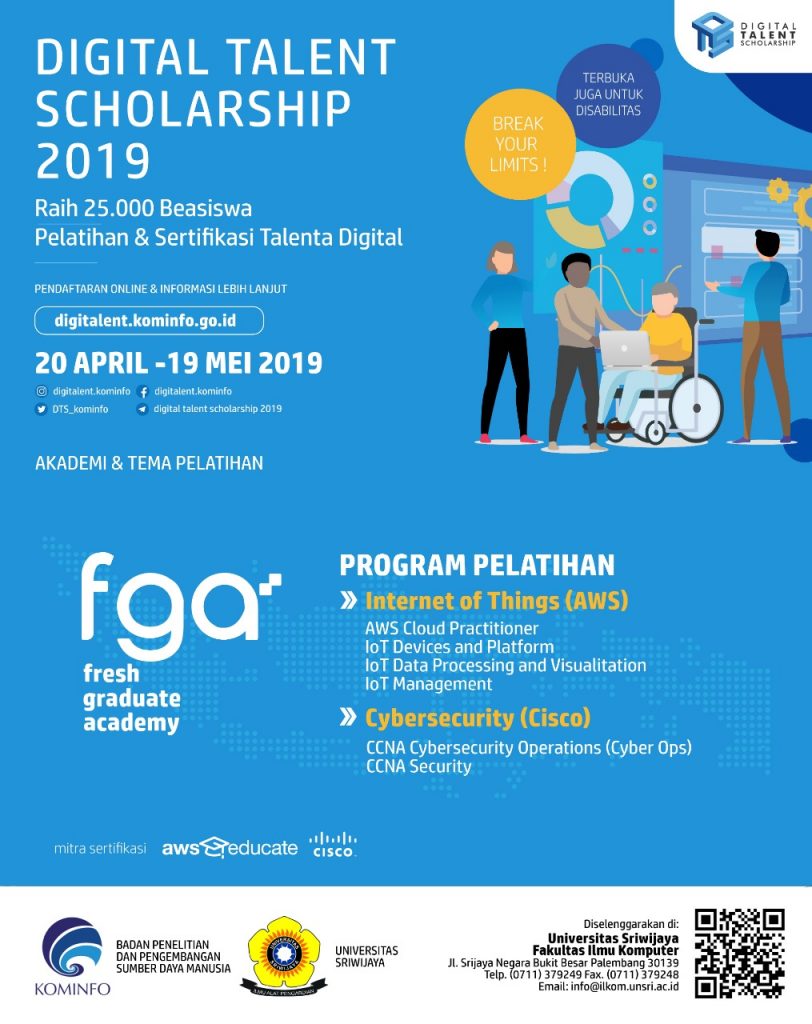 Kementerian Komunikasi dan Informatika membuka pendaftaran bagi calon penerima 25.000 beasiswa program pendidikan tanpa gelar Digital Talent Scholarship 2019. Beasiswa itu ditujukan untuk meningkatkan keterampilan dan daya saing sumber daya manusia Indonesia di bidang teknologi informasi dan komunikasi.
Peserta program akan dilatih secara intensif untuk menguasai hardskill dan softskill sesuai dengan peminatan di bidang teknis Artifical Intelligence, Big Data, Cloud Computing, Cyber Security, Internet of Things, dan Machine Learning serta beberapa tema pelatihan lainnya.
Universitas Sriwijaya dipercayakan sebagai penyelenggara program Fresh Graduate Academy (FGA) dengan pilihan Tema Cybersecurity (CCNA) dan Internet of Things (AWS). Kegiatan ini akan dilaksanakan di Fakultas Ilmu Komputer Kampus Bukit Besar Palembang pada tanggal 1 Juli – 31 Agustus 2019.
Masa pendaftaran program dimulai tanggal 20 April 2019 hingga 19 Mei 2019. Untuk informasi lebih lanjut dan pendaftaran silakan akses https://digitalent.kominfo.go.id. Informasi lainnya dapat dilihat melalui Instagram @digitalent.kominfo.
Download attachment:
Digital Talent Scholarship 2019 – 

Digital_Talent_Scholarship_2019.mp4 – [mp4]
Banner – [jpg]